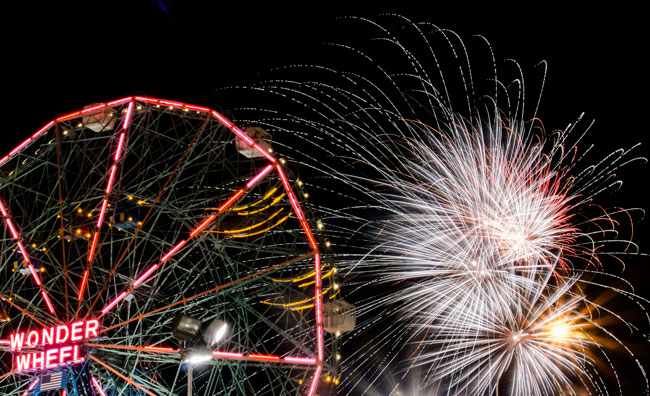 Photo: Bob Jagendorf
In my novel the 11-year-old narrator, Brooklyn, goes to the boardwalk with her cousin Marilyn to see the Fourth of July fireworks. The boardwalk is packed, a record million and a half people showed up. They get to their uncle's boardwalk bar and get a happy surprise—a blues singer they were looking for is singing there. 
The following is an abbreviated excerpt from the novel.
The spotlight seared through the smoke, framing him in a pale cone of light, magnifying him, making him more vivid than life. I longed to go in.
"Got no home of my—"
Boom!
We turned. A chrysanthemum of white fire bloomed in the black sky.
"Come on." Marilyn grabbed my arm and tried to pull me. "We have to go."
Drinkers at the bar hopped off their stools, and gradually the whole place emptied. Patrons walked out to the boardwalk and turned their faces toward the fireworks, martini glasses still in hand.
"You go," I said. "I have to talk to Mississippi."
Boom!
My memory of Tuesday night fireworks in the 1950s was one of pure communal joy. Every time a perfect fireball exploded in the sky the crowd let out an "ooh" in unison. I think the red ones were my favorite.
photo credit: <a href="https://www.flickr.com/photos/bobjagendorf/7908292098/">Bob Jagendorf</a> via <a href="http://photopin.com">photopin</a> <a href="http://creativecommons.org/licenses/by/2.0/">cc</a>