The following are excerpts from early versions of my novel when I had a more poetic style. My husband, Jim cobbled some of them together because he missed them—after twenty years of writing this, on and off, I have a ton of this stuff.
In the small hours before dawn, the wind rattles Spook-A-Rama's swinging doors and howls through the Cyclone's white skeletal ironwork. Packs of yellow-eyed dogs prowl the midway casting long velvet shadows in the moonlight,  while on the beach trembling girls lose their innocence to the pounding of the surf.
The City of Fire was our town, three generations of insiders. Though only eleven, I was intimately acquainted with the deepest workings of the place: the carousels, bumper cars, pouncing ghouls–everything with moving parts, because my dad made them in his workshop.
I walked down Jones Walk past Spook-A-Rama, which ran almost the entire block—the world's longest spook ride—with its two Cyclops-topped buildings and convoluted section of outdoor track.
I kept walking until I hit the midway. On the corner was the Virginia Reel: a giant twisting gut, with big spinning tubs for cars. I turned left onto the midway and passed Stable Casino, Ripley's Oddities, Looper, Pleasureland, the Whip, the Boomerang and the Tunnel of Love, where golden boats glided though dark tunnels which seemed to skirt a shadowy netherworld.  I felt dark undercurrents in the crowds—a chilling draft, a far-away cry, a puff of smoke, the sound of my name echoing through the crowds.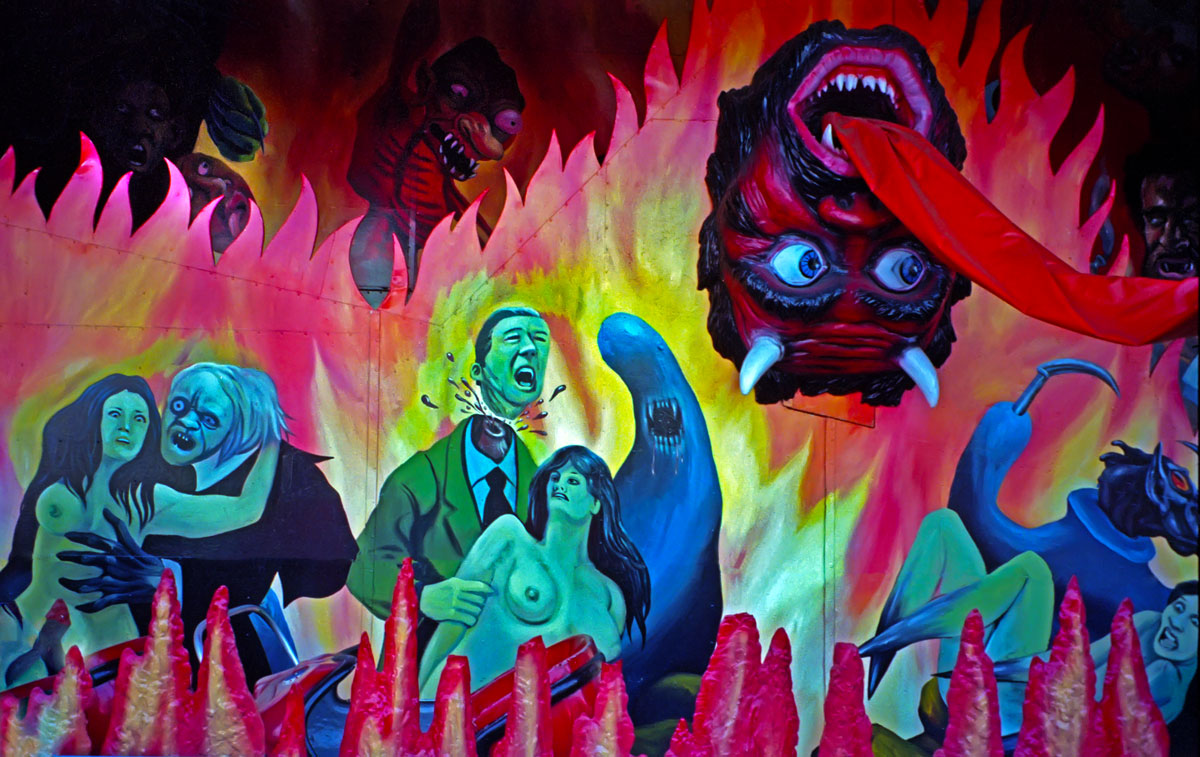 Photographs by Jim Blythe
My own memories of Coney Island as a child were much more jolly, though now drenched with a feeling of loss. Where did we go—those children we once were?